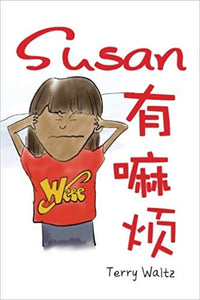 Now the second-easiest "novel" available in Mandarin (after Milo youchoubibao)! This new, illustrated chapter book all in Chinese for beginning students, tells a quirky and engaging story told using only 212 headwords and 207 unique Chinese characters. Chapter 1 has only 23 headwords and can easily be read by students in their first month of Chinese study. The entire book is about 9000 characters long with illustrations in each chapter.
Want an easy review game, additional practice or a sub plan? There are two Sunzi card games that coordinate directly with this novel, with color-coded "levels" to allow students to practice some or all of the vocabulary in the order it appears in the book: Sunzi: Pingtung and Sunzi: Kaohsiung.
Want a class set? Use discount code SusanForClasses for savings on 25 copies or more, or if you need fewer, try SusanForGroups for 10 copies or more. (If you are buying more than one reader ["Milo", "Susan", "Tom", "Josh", "Kaleo"] in quantity, you may need to make separate transactions to get the coupon to apply to all your books, since the shopping cart will only take one coupon.)
Please note: Books are shipped by the printer, so delivery estimates are sometimes not within the Squid's control. Please email if you have specific questions about your book order.