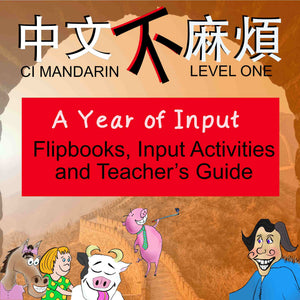 And no, the price is

not

$1 million!
NEW SUBSCRIPTIONS AVAILABLE! All-online, on a completely new site! Zhongwen Bu Mafan! is now hosted at The Comprehended Cloud. To purchase, please visit

comprehendedcloud.com
Are you tired of worrying about how to find enough time to choose, organize, and present comprehensible language for your beginners? 
Zhongwen Bu Mafan! is here to give you that time back! Our new, expanded 2021-2022 edition is packed with brand-new stories and input activities for beginners acquiring Mandarin, and is presented in a convenient online web-based format. If you can share a screen or project a Web site, you can use Zhongwen Bu Mafan! with your students.
Zhongwen Bu Mafan! gives you everything you need to teach total beginners Mandarin Chinese using Comprehensible Input. These classroom-tested activities coordinate with engaging, fully illustrated storybooks (included in convenient digital flipbook form for you to project or screenshare) to build confident, joyful readers. 
The one-year subscription for a single teacher provides online access to six sequential modules (Giuseppe, Egbert, Mildred, Herbert, Cow and Craig, and George). After completing this content, students are ready to read the chapter book ("novel") Milo 有仇必報 independently or as a class. 
You may also choose a one-semester subscription covering four modules (Giuseppe, Egbert, Mildred, Herbert or Mildred, Herbert, Cow and George) or an Exploratory module for short-term "taster" programs. 
Each module includes a variety of activities that establish meaning and expose students to tons of repeated, unpredictable input they will understand. You can project or screenshare the pre-made whiteboards, PictureTalk graphics, cartoon strips and tasks, and refer to story scripts and suggested directions for conversation to help you keep the Chinese going in class in a comprehensible way. The program even includes directional gestures and ways to help your students remember new words, plus lots of suggestions for "how-to" (and "how-not-to"!) teach specific words or grammar patterns, and video or written teacher's guides by author Terry Waltz. 
Set a firm foundation for your students' future Mandarin study and forget about all that planning time you used to need. Let us help you make Zhongwen...Bu Mafan!
To purchase your subscription, please visit

 

comprehendedcloud.com