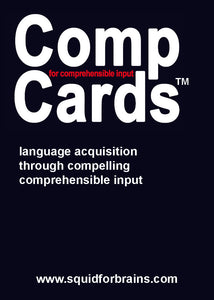 Need compelling comprehensible input? It's right here!
CompCards put the power of compelling, unpredictable, comprehensive and comprehensible input in the palm of your hand! This is rich language far beyond the scope of any textbook, with something for every level and learner.
Four "suits" of cards (Comprehension, Expansion, People and Situations) give talking points, links to culture, classroom techniques, questioning strategies and hints. Detailed text on one side helps you plan your input -- whether that's a conversation, a story, ClipChat, an interview, a reading lesson, or anything else -- while the summary side reminds you at a glance to do it.
Practice at your own speed, without using a chart or list that throws you into predictable patterns. Add as many or as few cards at a time as you like. Focus on one skill or multiple skills, specific thematic target areas, or mix and match. "Stack" your deck to remind yourself of specific questions, topics or techniques at specific times, or shuffle and see what happens!
This deck is designed to allow anyone to easily provide compelling, comprehensible input to learners at ANY level of language. It addresses content for everyone from beginners to AP level students and beyond. Works with any language, and numbers from single-student tutoring sessions to massive Asian EFL classes and everything in between.
The CompCards™ deck includes four "suits": comprehension (techniques to boost student understanding), expansion (techniques to get more depth and breadth out of existing topics or questions), people (suggestions, themes and cultural links involving people or other characters) and situations (ideas for enriching input and cultural links related to activities and situations).
The CompCards™ deck was developed by Terry Waltz, Ph.D., a certified teacher of Mandarin Chinese and Spanish, presenter, teacher trainer and coach. It is the system she uses to train teachers in comprehensible input techniques at workshops.
This product is packaged in a sturdy reclosable transparent plastic deckbox for years of use. PRINTED IN THE USA.