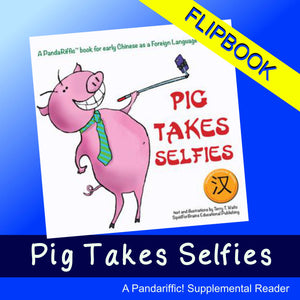 12 months' access to the online flipbook version of Pig Takes Selfies (Simplified character version). Ready for whole-class reading on a projector or via screensharing online.
Flipbooks are securely hosted on Terry Waltz' Moodle site (terrywaltz.moodlecloud.com) so you can access them from any device with Internet access. When you purchase a subscription to one or more flipbooks, we will either **manually** create an account for you on that site (if it is your first flipbook subscription), or enroll you in an additional flipbook "class" (if you have already purchased one). This has to be done manually, so please allow 48 hours for access. Usually it is done more quickly than that, but things are difficult these days so we appreciate your patience.
You will receive a separate email with your login and password for Moodlecloud. Make sure you know which email you have given for login!! Your subscription is for one person and login information may not be shared. We reserve the right to terminate any subscription that shows login activity suggesting shared access.