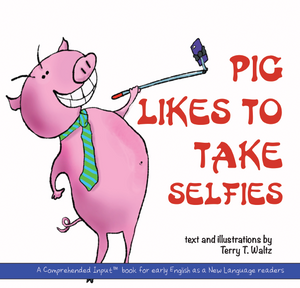 It's not that Pig is vain...he just looooves selfies! Share Pig's adventures as he runs amok of the Selfie Police while trying to capture that perfect shot at famous landmarks around the world.
A simple but unpredictably-repetitive read for new readers of English. Most books for emergent readers of English are designed for a native-speaking emergent reader age group (3-6 years of age) and so can be poorly accepted by older learners of English who still need very simple language. 
Vocabulary and structure in this book focus on "take a selfie" (great for sparking discussion), locations, and come/go.