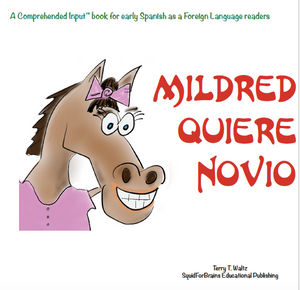 Mildred is keen to meet her soulmate, but she's got quite the list of requirements. Will she manage to check off the boxes in time to welcome Prince Charming?
Mildred's search is accomplished in just 80 unique Spanish words, including 10 cognates. Each different form of a verb is treated as a unique word, as it is seen in the mind of an emergent reader. The glossary supplies meanings for words and combinations of words to satisfy the need of a beginner to understand the text.
Language content focuses on numbers and ages, as well as personal characteristics. While Mildred is searching for a boyfriend, it is not at all a "romance-focused" book and is suitable for all ages. She may have been raised in a barn but she's got standards!