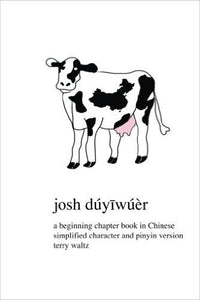 Between helping with the milking on his family's dairy farm and getting picked on at school, Josh's days in high school are full. He's making progress to catch the attention of Julia, the beautiful, exotic, and -- for ordinary, unremarkable Josh -- unreachable new girl at school. But then Christian, a hunky but inarticulate boy Josh's older brother asks to keep the school bully off Josh's case, asks Josh for with another girl problem. Josh soon finds out that his promise to help out comes with a price -- one he may not be willing to pay.
A chapter book intended for new readers of Chinese. 417 unique Chinese characters. Full Pinyin support (on the next page, not visible while reading characters) and glossary.
Want a class set? Use discount code JoshForClasses for savings on 25 copies or more, or if you need fewer, try JoshForGroups for 10 copies or more. (If you are buying more than one reader ["Milo", "Susan", "Tom", "Josh", "Kaleo"] in quantity, you may need to make separate transactions to get the coupon to apply to all your books, since the shopping cart will only take one coupon.)
Please note: Books may be shipped by the printer, so delivery estimates are sometimes not within the Squid's control. Please email if you have specific questions about your book order.