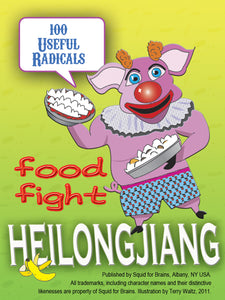 This Food Fight game will make it easy for you to recognize the 100 most common Chinese radicals. You'll use your growing  skills to correctly identify radicals and dash your opponent's hopes of winning, while building your own ability to easily and fluently read Chinese characters!
Best of all, this deck practices the radicals you'll find in all kinds of Chinese texts, including our fun Squid For Brains Chinese language illustrated storybooks. It's a great way to review, or an engaging class activity that ties directly into reading. Teachers -- if you've got a sub coming in, this is an easy lesson plan!
Food Fight games work the same way as SquidForBrains popular War games, but with fewer words per deck, giving more intensive and focused practice for novice readers.
The convenient YouPrint option allows you to print and cut as many decks as you like for your personal use or for use with your own students.