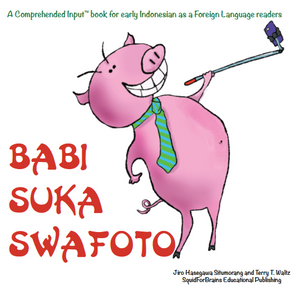 Pig has a camera and he's not afraid to use it...but can he find photographic immortality before he gets into trouble one too many times?
48 unique words; significant repetition of "tidak boleh", locational "di", "swafoto", "sangat + adjective", "tapi", "datang", "pergi ke", N+nya/mu, and saat. 
The Comprehended Input for Indonesian series offers low word count, unpredictible and highly comprehensible stories for new readers of Indonesian as a Second or Foreign Language.