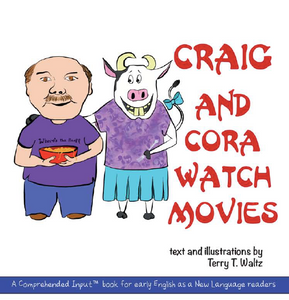 Cora the Cow is just a little bit obsessed with...noodles. How far will she go to get a bowlful? Will her friend Craig lose patience with her noodle-nabbing ways, and what lengths will he go to to protect his favorite movietime treat?
A simple but unpredictably-repetitive read for new readers of English. Most books for emergent readers of English are designed for a native-speaking emergent reader age group (3-6 years of age) and so can be poorly accepted by older learners of English who still need very simple language. 
This book focuses on "likes to/doesn't like to...", "watch movies", "eat noodles", and food words ("pork", "beef", "chicken"). The ending is inferred through the illustration, but could possibly be disturbing to some more sensitive younger children (though most younger kids who read the book have not noticed the detail that suggests Cora's fate). As in all the Comprehended Input books, the focus is on high-frequency, colloquial language that's useful right away.