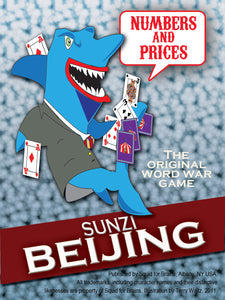 Take Beijing and you'll be on top of Mandarin Chinese numbers, dates and prices, in both Pinyin and characters! Get ready for a trip, or just ace your Chinese 1 tests without leaving home.
Sunzi, the game of war, pits your knowledge of introductory Chinese vocabulary and phrases against your opponent. Be the first to grab all the cards by winning each pair. Sunzi: Battle of Beijing covers important Chinese vocabulary on numbers and prices for beginners, in Pinyin (with one numbers challenge in Chinese characters).  Get Battle of Beijing and get started on the way to Chinese fluency today!
Coordinates with Integrated Chinese Level 1, Huanying, Encounters, and most level 1 Chinese texts. The game is completely self-correcting and can be played as a useful class activity with a sub who does not speak Chinese, as well as just for fun!
The convenient YouPrint option allows you to print and cut as many decks as you like for your personal use or for use with your own students.