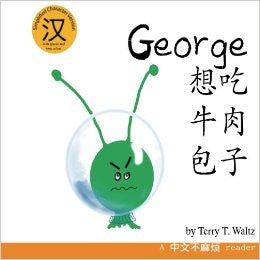 Lights, camera -- salad? There's nothing like sitting down in front of the TV to enjoy a good film. And sitting down without beef baozi is nothing like enjoying a good film. Will George find his snack of choice, or will he end up in anger management instead?
George Xiang Chi Niurou Baozi is a progressing book for new readers of Chinese. Written in a minimum number of characters, with color coding and word spacing, "George" provides new readers of Chinese with a chance for independent reading success. In contrast to children's picture books, which are intended for native speakers, the Zhongwen Bu Mafan! series focuses on the highest-frequency words in the language, providing beginning readers with an engaging and accessible way to strengthen their reading skills in Chinese.
Please note: Books are shipped by the printer, so delivery estimates not within the Squid's control. Please email if you have specific questions about your book order.