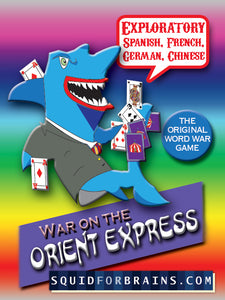 Finally! A card game for teachers doing short-term "exploratory" courses in multiple languages. "Orient Express" contains high-frequency words and phrases in Spanish, French, German and Mandarin Chinese. Play one language at a time or pit them all against each other in a linguistic free-for-all! 
Kids love to compare and explore what new languages are like, and "Orient Express" opens the door for their natural curiosity while providing a play-tested, student-friendly game mechanism. 
PDF of game featuring 50 high frequency items in each language, plus six keycards with translations to make gameplay totally independent. For two to five players. Just print on your choice of cardstock and cut out. License allows unlimited printing for one teacher's classroom(s).