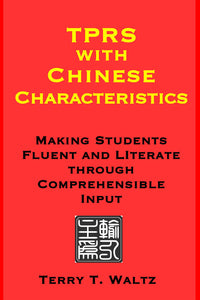 TPRS with Chinese Characteristics (not "characters"!)
A short, to-the-point introduction about practical methods of teaching ALL languages — not just Chinese — through TPRS/CI. Special attention is paid to the "LOUF" languages (languages of unusual features) and their literacy and other challenges. Great for any teacher considering or practicing TPRS®, COIN™ or TCI.
Have you read or heard about TPRS, but don't quite know where to begin? A little hesitant about teaching a "hard" language like Chinese using Comprehensible Input? TPRS with Chinese Characteristics summarizes fifteen years of teaching Chinese using TPRS/CI. Focused on classroom practice, the book presents tested, effective strategies and skills that will allow you to leave the myth of Chinese as a "difficult" language far behind your students. From tones, Pinyin, and reading instruction to writing prompts and output, TPRS with Chinese Characteristics fills in the gap between "traditional" Spanish- and French-focused TPRS training and the special challenges faced by students of Chinese. 
There's also plenty of straightforward advice on basic TPRS techniques for any language, so don't let the Chinese title put you off.
(PLEASE NOTE: If you have a Kindle or enjoy reading books in ebook format, you may wish to purchase this book through Amazon instead. They have an offer of $2.99 for the Kindle edition for people who have purchased the hard copy version from them previously. If you purchase hard copy here, I cannot get you that special Kindle discount later.)
What Readers are Saying:
"The right book at the right time!" – Stephen Krashen, Ph.D.
"This is a superb book about how to teach so that students will indeed become, as the subtitle says, "fluent and literate through comprehensible input." It is loaded with down-to-earth practical advice for any language teacher who wants her/his students to actually develop true proficiency.
I especially recommend it to all teachers who don't consider themselves advanced in TPRS or comprehensible input. However, even the most experienced TPRS and CI teachers are likely to learn something from Dr. Waltz's descriptions of her experiences. It may be an exaggeration, but there is much truth in legendary baseball manager Earl Weaver's opinion that "it's what you learn after you know everything that counts."
Teachers of Chinese, Japanese, Arabic, Hebrew, Korean, Russian and other languages that do not use the Latin alphabet will get extra benefit from the sections on teaching reading and writing. Teachers of other tonal languages will profit from Waltz's practical approach to teaching tones."  Contee Seeley
"Terry Waltz has taught Mandarin using comprehensible input for fifteen years. A PhD, international presenter, linguist, teacher, and professional translator, Waltz knows as much about comprehensible input as anyone alive. If you teach Chinese, you want to up your pedagogical game, and you want your students to learn with ease, this is where you start."  Chris Stolz, TPRS teacher
" I sure wish I had this book when assisting on the [redacted] classes 5 years ago… It would have been awesome." B.D., German teacher
" I just started reading your book on TPRS with Chinese and I am IN LOVE!!! I teach French and have been a TCI teacher for about 8 years now. In the beginning, I saw a lot of success and was thrilled with the results. Lately, pressure from colleagues pushed me back to a more "combined' method of teaching. I about burst into tears when I read your comments on page 16 regarding the ineffectiveness trying to serve two masters. I feel re-inspired to fully embrace TCI and to see what my students can do when I put my whole heart into this method." A.B., French teacher