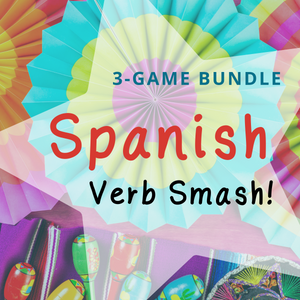 Here's your chance to grab three of the Squid's best games for reviewing Spanish verbs and save! This package includes YouPrint™ versions of Guerra: Zaragoza (focus on regular present tense verb forms), Guerra: Toledo (irregular preterite forms) and Guerra: Seville (irregular present tense forms).
Like all the Guerra games, these are completely self-correcting, so students can play independently. They're a great last-minute sub plan to provide real language content on a day your sub can't speak Spanish, or as a means to review forms before a high-stakes test.
YouPrint™ game licenses allow unlimited printing of games for use by all students of a single teacher.