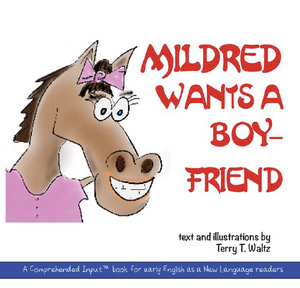 Mildred the horse is looking for love...but she's a 21st century woman who's not inclined to settle for less than what's on her list! Will Mildred find a man who fits her requirements?
A simple but unpredictably-repetitive read for new readers of English. Most books for emergent readers of English are designed for a native-speaking emergent reader age group (3-6 years of age) and so can be poorly accepted by older learners of English who still need very simple language. 
This book focuses on numbers, ages and personal characteristics. While the title is about wanting a boyfriend, this is definitely a humorous book, not a typical "girl wants guy" story. There's lots of high-frequency language to spark personalized discussion and interaction with students, as well as to prompt their own written output after they read it -- all by themselves.