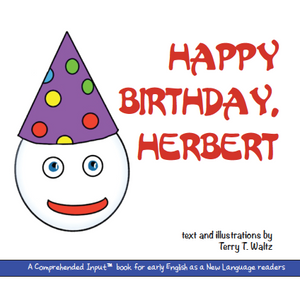 It's Herbert's birthday...and even a guy with a ping-pong ball for a head has his wishes for that special day. Herbert's friends have other ideas, though. How will Herbert finally celebrate his big day? 
A simple but unpredictably-repetitive read for new readers of English. Most books for emergent readers of English are designed for a native-speaking emergent reader age group (3-6 years of age) and so can be poorly accepted by older learners of English who still need very simple language. 
Vocabulary and structure in this book focus on "birthday", "goes to", "is angry", "is sad", and other high-frequency words and structures.