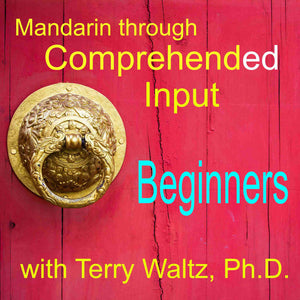 An online, once-a-week group Mandarin class with Terry Waltz, a Comprehensible Input-based teacher and trainer. The beginning class runs eight sessions, but past groups have chosen to continue -- so far, up to three years!

In this class, you will speak and understand the highest-frequency words and phrases in Mandarin while talking about topics of interest to the members of your class. By the end, you will read a short storybook all in Chinese characters -- without memorizing a thing! This class assumes NO previous Chinese experience and there is no homework or study required.
This is also a great chance to experience a language other than your teaching language (if you teach using CI) and to chat casually about teaching and strategies for a few minutes after class, if that is of interest.
Terry has been teaching Mandarin through Comprehensible Input since 2000. She was not only one of the first teachers to use this brain-friendly approach in Chinese, she has also made substantial original contributions to practice, including Directional Gestures, the Cold Character literacy method, and Tonally Orthographic Pinyin (TOP) romanization.
Beginning with no Chinese experience as a college student, Terry built her proficiency in Mandarin Chinese sufficiently to become a qualified simultaneous interpreter for US Department of State cabinet-level events and to perform highly technical translations in nuclear engineering, environmental science and medicine for hundreds of private and governmental clients. 
NOTE: We must have a minimum of six participants to open a class. Class size is capped at 10 to ensure a good experience for all. If there are fewer than six registrants for any section two days prior to the class, we reserve the option to run the class or to cancel it and refund participants' money. We try to run classes whenever possible, but bringing a friend is a great way to up those chances and have a lot of fun together!