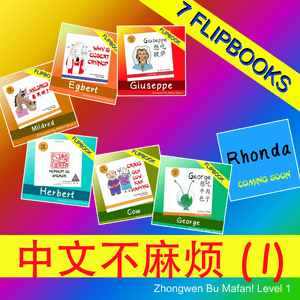 12 months' access to the online flipbook version of all the flipbooks included in the Zhongwen Bu Mafan! curriculum (level 1). Ready for whole-class reading on a projector or via screensharing online, or for your class to have their very own books to proudly re-read to family, friends and pets!
Flipbooks are securely hosted and you can access them from any device with Internet access. When you purchase a subscription to one or more flipbooks, we will either **manually** create an account for you on that site (if it is your first flipbook subscription), or enroll you in an additional flipbook "class" (if you have already purchased one). This has to be done manually, so please allow 48 hours for access. Usually it is done more quickly than that, but things are difficult these days so we appreciate your patience.
You will receive a separate email with your login and password for Moodlecloud. Make sure you know which email you have given for login!! Your subscription is for one person and login information may not be shared. We reserve the right to terminate any subscription that shows login activity suggesting shared access. 
Frequently Asked Questions:
How will I access my flipbooks? Flipbooks are online, and can be accessed from any device that has Internet access (computers, tablets, phones). You will receive an email with your login information.
How do I sign my students up? If you purchase more than one seat license, we will be in touch for you to fill in a simple spreadsheet with your students' email addresses and names so we can set up their accounts for you. 
Are these simplified or traditional characters? All the flipbooks are provided in Simplified character versions, but we are adding Traditional versions as quickly as possible. They will magically appear in your flipbook collection when they are available!
Please note: one teacher subscription to these flipbooks is included in your Zhongwen Bu Mafan! A Year of Input subscription. These subscriptions are intended for teachers who are not using Zhongwen Bu Mafan!, but who would like level-appropriate readers for their beginner students, or for Zhongwen Bu Mafan! teachers who want their students each to have a copy of the readers for use at home or on a device in the classroom.